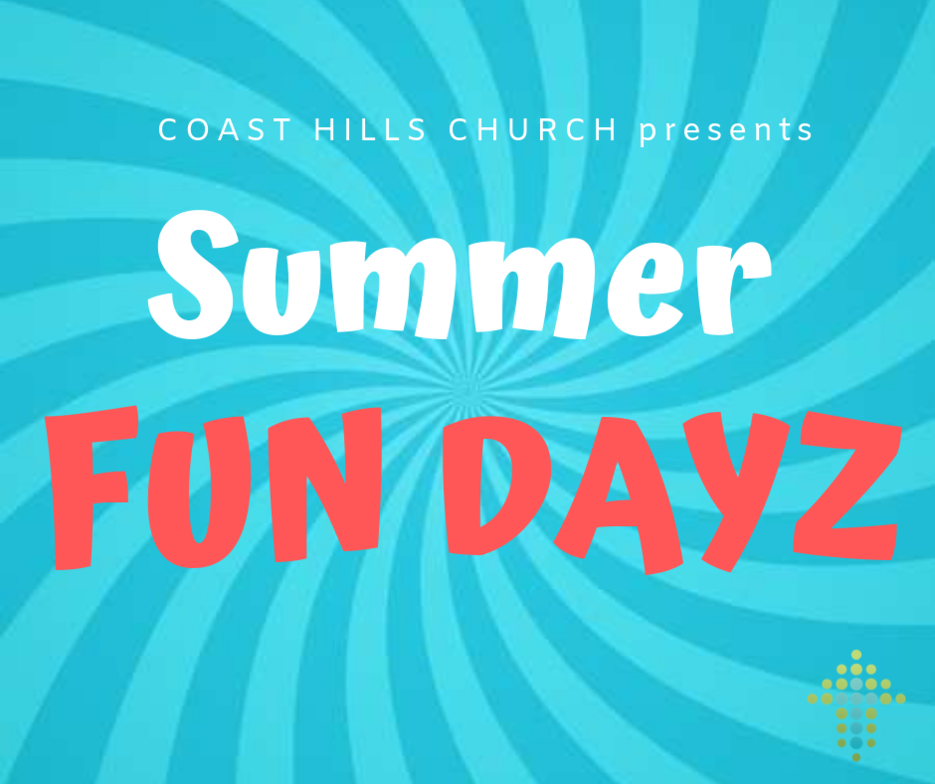 Coast Hills is excited to present our first ever SUMMER FUN DAYZ!
Summer Fun Dayz will be fun afternoons to give kids and youth a place to engage and have a good time. Parents can sign up for as many as they like and drop their kids off for 2 hour sessions of supervised fun. We will have something for everyone!
All school aged kids going into kindergarten through to grade 5 in the fall of 2019 will be able to register for the fun afternoons, which will be held at AJ McLellan Elementary school from 1pm-3pm. There will be an LIT (leadership-in-training) program for grades 6-8's, more information will be coming soon for the LIT's.
Here is the Summer Fun Dayz line up. All Fun Dayz will be held at AJ McLellan Elementary. Registration details available soon!
July 3rd, 1pm-3pm - Water Dayz. $5/child
Bring your swim suit and towel because our big slip and slide will be set up on the hill. There will be sliding, water activities, bubbles and more!
July 10th, 1pm-3pm - Craft Dayz. $10/child
Join us for a creative afternoon where everyone will get to make their own tie dye shirt to take home plus other classic camp crafts to keep our hands and creative minds happy!
July 17th, 1pm - 3pm - Sports Dayz. $5/child
Bring your team spirit as we participate in a classic Sports Day. There will be playful relays, group challenges, lots of cheering and tons of fun!
August 7th, 1pm - 3pm - Movie Dayz. $5/child
Join us for an entertaining afternoon as we watch a movie in the gym. There will a movie, popcorn, and some fun "body breaks" to keep us smiling and active. (movie is tba / age appropriate)
August 14th, 1pm - 3pm - Water Dayz. $5/child
In case you missed the first Water Dayz, or had so much fun the first time, we couldn't pass up the opportunity to bring back the slip and slide!
Registration links will be available soon.
We can't wait to hang out with you all summer!!
**Kidz Camp (our week long half day camp) is currently under construction and will return in the summer of 2020. Check back for exciting details in the spring next year!